About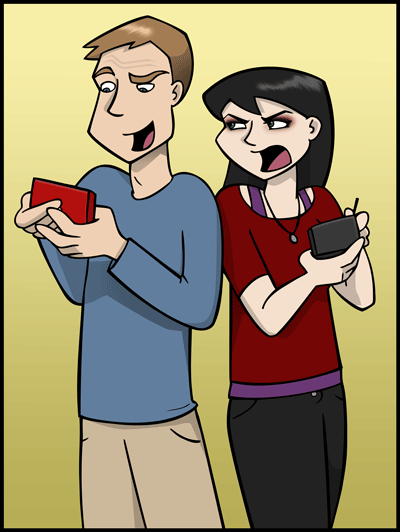 MegaCynics™ is the collaboration of two long-lost siblings, Steve and Ash. Born twenty years apart, and with vastly different life experiences, this is the story of two related strangers finding that they nevertheless actually seem to like each other.
It is a story that encompasses video games, popular culture, hockey, friendship, family, sibling rivalry, nature vs nurture, good vs evil, wealth vs poverty, black magic vs atheism, and giant anacondas vs robot gorillas. (Our money is on the robot gorillas.)
At its heart, it is a genuine, moving exploration of the human condition. Which is to say, it is a comedy.
Between the two of us, we have a lot of interesting stuff to share. Some of it will be completely fabricated, but a surprising amount of it will be almost completely historically accurate. Plus we are doing more cool stuff all the time. And we get to make comics about it. And blog it. Then you read all about it, 100% gratis. It's win-win, really.
Why the name MegaCynics? A very good question, asked to us by people from Tim Schafer to Chris Avellone to Teal Sherer. Our response? All shall be revealed in time.
Steven Dengler
Co-Founder, Co-Writer, CEO, and Editor-in-Chief.
I am the older brother. Pretty much 20 years older than Ash, actually. I started a company with a friend in 1993, right out of university. Things were pretty grim for the first five years. Then things got a little better. And a little better. Then a lot better. Almost 20 years later, the company is world famous, and is kicking huge ass. So things are really good. But I'm still a geek — and not even deep down inside, but right out in the open.
I finance MegaCynics. Success has meant that I get to pick and choose a lot of fun things to do. I am a private pilot and I fly my own plane all over the place. I invest in small startup companies that need a break, and sometimes in not-so-small companies that need a break. I do a lot of charitable stuff. I play video games. I sometimes do things that combine all of the things above. It's fun, trust me. You'll see.
Ash Vickers
Co-Founder, Co-Writer, Creative Director, and Lead Artist.
I am the younger half-sister, and I've been drawing up cartoons and comics for the last ten years or so but I've never had the time to really work on a big project. Steve and I met each other about four years ago and just recently decided that by our powers combined we may actually be able to come up with something entertaining so here we are =). I'm a big fan of comic books, movies, video games and the entire game industry, although, I've never been amazing at console games (try as I might). However, after dedicating the better part of six years to WoW, I can still classify myself as a gamer.
In my spare time I still game, but the majority of my time is now dedicated to artwork and putting up with Steve's constant torment via social networking and email. Seriously, he may act all modest but I have it on good authority that he spends his spare time riding giraffes through the desert while super models feed him girly drinks and give him massages.
MegaCynics Inc.
Launched on April 1, 2011, MegaCynics is a project of MegaCynics Inc., which is owned (for reals) entirely by Steve and Ash. MegaCynics is a registered business name of MegaCynics Inc. MegaCynics and the MegaCynics logo are trade marks of MegaCynics Inc. Please see our legalese section for more important but mind-numbingly boring information.